Glass Shops Directory Alphabetical Listing

Selling Fine Antiques and Collectibles
Exclusive Ruby Lane Member since 2010
Dave McClellan
15 Joseph Drive
Boiling Springs, PA

---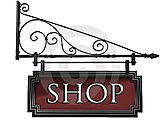 Uncovering the Treasures of Yesteryear!
Exclusive Ruby Lane Member since 2010
Lynn Burke
89 Rose Court
Albany, NY

---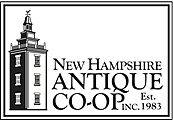 Featuring period furniture, fine art, quality porcelain, silver and decorative accessories.
Member since 2004
Celebrating 32 years of family business! New Hampshire's finest group shop. Family owned & operated. 200+ dealers.
The Hackler Family
323 Elm Street ~ Rte 101A PO Box 732
Milford, NH

---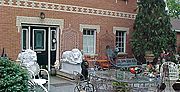 Estate Finds in Fur, leather, wool - pre-owned designer labels
Member since 2012
Excellent previously loved chic clothing and accessories - furs, leathers, coats, jackets, purses,etc. plus garden decor
Anne Sachar
Niagara-on-the-lake Ontario
St. Davids, ON, Canada

---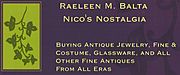 Welcome to Nico's Nostalgia! We feature an outstanding selection of Vintage and Antique Jewelry.
Member since 2011
Have fun shopping at Nico's Nostalgia. You will find wonderful Vintage & Antique Jewelry to add to your collection!
Raeleen Balta
3114 Clover Street
Pittsford, NY

---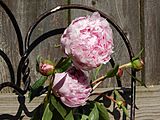 SPRING SALE NOW! When summer arrives, the sale is gone with the May flowers! Shop before it's gone!
Exclusive Ruby Lane Member since 2012
Limited Time Spring SALE!! Quality vintage and antique finds! Shop Nostalgique before it's Gone! Make an offer!
Monica DuttonHurt
451 Perry
Lawrence, KS

---