Doll Shops Directory Shop Locally

Antique dolls, miniatures, dollhouses and anything rare and unusual
Exclusive Ruby Lane Member since 2015
Purveyor Of The Past
Ann Ipsen
Address provided
After sale, NJ

---

Antique Dolls & Accessories, NJ Decoys, Early Toys, Americana & Folk Art
Exclusive Ruby Lane Member since 2009
Mary Ellen Rucci
24 Old Burlington Road
Bridgeton, NJ

---

Quality Antique and Collectible Dolls with lots of character.
Exclusive Ruby Lane Member since 2007
Specializing in Dolls with Personality and Character.
Sara Bernstein
Address Available upon purchase
Englishtown, NJ

---

Beautiful Dolls at beautiful prices
Exclusive Ruby Lane Member since 2013
Nerwinski
Address provided upon sale
Frenchtown, NJ

---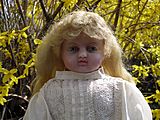 Antique, Vintage Dolls and Related Items Along with a Few Other Categories
Exclusive Ruby Lane Member since 2004
Please note ~ Due to business travel, I will only be able to ship on Saturdays.
Karen Golden
Information provided at time of purchase.
Marlton, NJ

---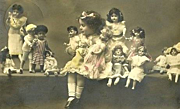 Antique Doll Place Jointed Doll Shops United
Member since 2014
Lovely Dolls and Dolls Costumes! Layaway always available for full price! Reasonable Offers Accepted with No layaway option!
Marina and Bill Vain
South Jersey
Mount Laurel, NJ

---
Specializing in primitives, porcelains, antiques, costume jewelry and unusual collectibles.
Exclusive Ruby Lane Member since 2005
Welcome to our shop! Happy Mother's Day. We hope you will enjoy shopping here!
Eileen & Harold Arena
Full address available to customers at time of purchase
Old Bridge, NJ

---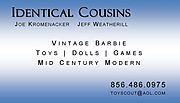 The best in vintage dolls, toys, and memorabilia!
Member since 2013
Specializing in vintage Barbie, GI Joe, TV and movie related toys and games
Joseph Kromenacker
7129 Chandler Avenue
Pennsauken, NJ

---

Specializing in Antique Textiles, Bears and Rag Dolls.
Member since 2006
Welcome to my May update !
Patricia Herzog
In Vacation Mode
Somerville, NJ

---

Exclusive Ruby Lane Member since 2007
Linda Goddard
To be provided at time of sale
Southern, NJ

---

VINTAGE Designer Costume Jewelry and Clothing, VINTAGE Dolls & VINTAGE BARBIE
Exclusive Ruby Lane Member since 2009
Welcome to Fourty Fifty Sixty, enjoy you visit today...Thank you, Ben and Joe
Joe Bucchi & Ben Cassara
81 Washington Place
Totowa, NJ

---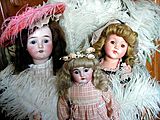 Antique and Vintage Dolls Offered with Integrity & Care Since 1994
Member since 2011
I will always accept any fair offers on my items. Please feel free to contact me~~
Louise Sleeter
21 Commissioners Pike
Woodstown, NJ

---