Doll Shops Directory Shop Locally

Member since 2011
Unique antique and vintage French pieces. Layaways always welcome!
Paris Brocante
In Vacation Mode
Linville, NC

---

Member since 2009
Fine 18th and 19th century French smalls: Layaways Welcome
Paris Chateau
In Vacation Mode
Linville, NC

---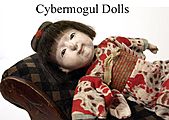 Beautiful reasonably priced dolls and accessories for every budget!
Exclusive Ruby Lane Member since 2007
Check out what's on sale or make your best offer now!
Marie Witherill
Available at purchase
Northwest, NC

---
Quality Dolls, Antiques & More!
Member since 2012
Suzanne McBrayer
Address available on request
Please request address, NC

---
NC dealer with a wide variety of antique furniture, decorative and fine art, jewelry, art glass, silver
Member since 2005
Randy King
P. O Box 327
Sophia, NC

---
Specializing in Yesterday's Toys... Teddy Bears, Dolls & fun Accessories
Member since 2013
Where Yesterday's Toys become Today's Treasures!
Yesterdays Teddy
Address Will Be Provided
through E-mail, NC

---

Antique Dolls and Doll Accessories
Member since 2013
We specialize in Antique French and German bisque and china dolls, vintage composition dolls, antique doll clothing and wigs.
Kathleen Dugan
6404 Crosshall Place
Waxhaw, NC

---

Beautiful dolls
Member since 2015
Fine quality vintage Madame Alexander dolls and more
Susan Roberts
Wilmington North Carolina
Wilmington, NC

---