Doll Shops Directory Shop Locally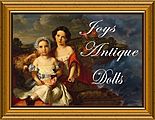 Early & Rare antique dolls, clothing, accessories. Offering variety, knowledge & fine service.
Member since 2000
Check April Mark-downs! Joy's was the very first doll shop on Ruby Lane! On Sale ~ Layaway ~ Offers Welcome!
Joy Frizzell
PO Box 190828
Boise, ID

---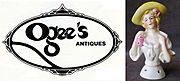 Ogee's Antiques - A FUN place to shop for antiques and vintage collectibles!
Exclusive Ruby Lane Member since 2002
We welcome layaways. Our Home page describes the details. Email if you have any questions.
Debra & Robert Helton
1203 Cerramar Ct.
Eagle, ID

---