Doll Shops Directory Alphabetical Listing

My antique miniatures & doll related items are of the finest quality & I guarantee them all.
Member since 2012
Jackie Everett
P.O. Box 62
Glenwood, MD

---

Doll Collection at very reasonable prices!
Exclusive Ruby Lane Member since 2004
Take a peek into the past of quality dolls. Selling doll collection of over 20 years.
Jan Kefalas
9891 Prairie Falcon Lane
Highlands Ranch, CO

---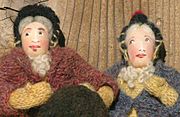 Antique dolls of high quality at fair prices backed by expertise and professionalism, sold with love
Member since 2006
Lynette is home after a fabulous European doll tour trip. She is adding treasures daily to the shop. Joan is home also.
Lynette Gross or Joan Farrell
Joan and Lynette have separate mailing addresses for payments that are available at checkout or when Paypal is used.
Carmel Indianapolis, IN

---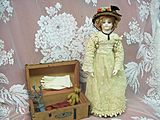 Antique & Vintage Dolls,Toys, Bears, Vintage Jewelry,Hand made Jewelry
Member since 2011
We Have Been In The Doll Business Since 1977 In The Same Location. We Sell New,Old,& Antique Dolls And Accessories
Joyce Fleming
1345 Cesery Terrace
Jacksonville, FL

---

May my treasures bring you JOY!
Exclusive Ruby Lane Member since 2003
Judy Smith
Will provide to buyer
Lancaster, PA

---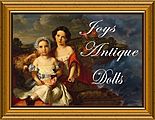 Early & Rare antique dolls, clothing, accessories. Offering variety, knowledge & fine service.
Member since 2000
Check April Mark-downs! Joy's was the very first doll shop on Ruby Lane! On Sale ~ Layaway ~ Offers Welcome!
Joy Frizzell
PO Box 190828
Boise, ID

---

" A Thing of Beauty is a Joy Forever "
Exclusive Ruby Lane Member since 2009
Selling Antique / Vintage Dolls, Clothing and Accessories
Joy Smith
17 Graffam Road
South Portland, ME

---

Exclusive Ruby Lane Member since 2002
Judy Kapron
In Vacation Mode
Michigan, MI

---

Jewelry & Collectibles
Exclusive Ruby Lane Member since 2007
Just4Girls
Available at time of purchase.
Wine Country, CA

---