Vintage Fashion Shops Directory Shop Locally

Lovely antique & vintage treasures
Member since 2012
Please visit our SALE SECTION for discounted treasures! Thank you for shopping with us!
Tresors de Belles
Lovely Antique & Vintage Treasures
Jacksonville, OR

---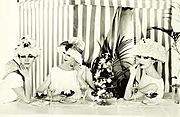 A Life Well Lived... For Sale
Member since 2011
Everything from Antiques to a Zebra Handbag!
Jolene Burkus
711 Medford Center #253
Medford, OR

---
Fine Antiques and Fun Collectibles at Reasonable Prices
Member since 2008
Tana Adair
P.O. Box 1233 / 1313 Main St.
Philomath, OR

---

A Unique Selection of Antique Estate - Vintage Costume & Native American Jewelry * Accessories & Col
Exclusive Ruby Lane Member since 2002
Layaway is Available - Offers are always Welcome!* "Life is too Short Not to Sparkle!"
Cindy & Ted Amirkhan
Address Provided
Upon Request, OR

---