Vintage Fashion Shops Directory Shop Locally

Rare Vintage & Antique Fashions, Plus Rich Textiles For the Home...All in Exceptional Condition. Researched for Authenticity.
Exclusive Ruby Lane Member since 2010
A luxurious collection of antique linens, fashions & jewelry has arrived & condition is Excellent or Near Mint!
Julia Henri
Post office box provided upon request.
Ann Arbor, MI

---

VINTAGE GLAMOUR - Necklaces, Bracelets, Sets, Pins, Earrings, Artisan Jewelry, Clothing, Accessories
Exclusive Ruby Lane Member since 2009
SALE many items 50% OFF
Robin Stone
Bloomfield Hiills, Michigan Full address provided with confirmed sale.
Bloomfield Hills, MI

---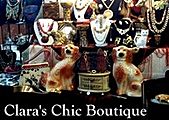 An Eclectic Mix of Vintage Jewelry, Collectibles, Home Decor, Fashion and Accessories
Member since 2012
Remember Mom - Mother's Day May 10 - Find Gifts She'll Love Here!
Penni Norton
2439 Hay Creek Dr.
Pinckney, MI

---

Head Vases, Vintage Pottery & Decor, Jewelry, Purses & More!
Exclusive Ruby Lane Member since 2000
20% off Memorial Day Sale going on now! Click on the item to see the sale price.
Ruth Harris
2395 Hay Creek Drive
Pinckney, MI

---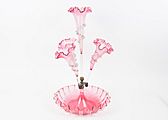 Best in Customer Service...All Offers Considered...Prompt Shipping
Exclusive Ruby Lane Member since 2013
Finders 2006 is a Ruby Lane exclusive shop, offering unique and interesting treasures . Consideration given to all offers.
Cynthia Kennedy
Available upon request.
St. Joseph, MI

---