Vintage Fashion Shops Directory Shop Locally

Selected Treasures from Georgia's Best Estates
Exclusive Ruby Lane Member since 2010
The Best Time of Year to Find a Little Something for Yourself
Lynn Godshall
4890 Lake Forrest Drive NE
Atlanta, GA

---
French Vintage Jewelry - Designers Fashion and Accessories like if you were shopping in PARIS
Member since 2012
All reasonable offers seriously considered, don't hesitate to ask !!
Veronique Cassel
Complete contact will be given at check-out
ATLANTA, GA

---

Antique silverplate, vintage collectibles and much, much more!
Member since 2011
Kathleen Becker
3965 Bellingrath Main NW
Kennesaw, GA

---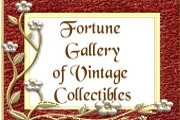 Collectibles, Vintage Jewelry, Fenton Art Glass, Harmony Kingdom, and More!
Member since 2012
Fortune Gallery offers a variety of quality items designed for the consummate collector.
Linda Brand
3 Central Plaza, Suite 341
Rome, GA

---