Vintage Fashion Shops Directory Alphabetical Listing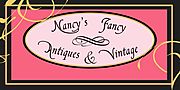 European and American Smalls, Jewelry, Pens & Desk Accessories, Perfumers, Sterling Boxes & Vintage
Member since 2008
Dad's Such a Special Guy, So Show Him Some Love from Nancy's Fancy and Don't Forget Graduation and your Best Friend's Wedding
Nancy's Fancy Antiques
Address provided at time of check out.
Springfield, NJ

---

Fine Upscale Jewelry, Accessories & Much More.
Member since 2006
Upscale accessories for the most discriminating tastes
Hetty Atmadja Thompson
For security reasons, I will provide my address during the sale.
My city, NC

---

Antiques and Vintage from the Ozark mountains and prairie
Member since 2014
See our unique collection of Ozark treasures
Debbie Harris
PO Box 244
Windsor, MO

---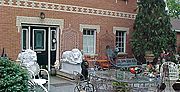 Estate Finds in Fur, leather, wool - pre-owned designer labels
Member since 2012
Excellent previously loved chic clothing and accessories - furs, leathers, coats, jackets, purses,etc. plus garden decor
Anne Sachar
Niagara-on-the-lake Ontario
St. Davids, ON, Canada

---

Beautiful things to make you happy and brighten your day!
Exclusive Ruby Lane Member since 2012
I list new things almost every day, so come visit often!
Ginnie Beattie
12 Chestnut St.
Westfield, MA

---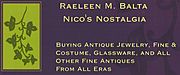 Welcome to Nico's Nostalgia! We feature an outstanding selection of Vintage and Antique Jewelry.
Member since 2011
Have fun shopping at Nico's Nostalgia. You will find wonderful Vintage & Antique Jewelry to add to your collection!
Raeleen Balta
3114 Clover Street
Pittsford, NY

---

See you at A Current Affair NY- Industry City, Brooklyn on May 30-31.
Member since 2010
Proud Member of the Vintage Fashion Guild. Ask about our convenient Layaway plan.
Heather Ramey
835 Ocean Ave., 1L
Brooklyn, NY

---
Great Selection of Vintage and Hand Strung Jewelry, Lucite Purses, Compacts and Pottery,
Exclusive Ruby Lane Member since 2013
NOLA Pearl Girls has a Great Selection of Goodies For Any Special Occasion!
Danae Columbus and Carolyn Long
816 BARONNE ST
NEW ORLEANS, LA

---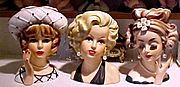 Head Vases, Vintage Purses, Jewelry, Unusual Finds
Exclusive Ruby Lane Member since 2003
Make a resonable offer to be accepted. Many more items to list
Mary Ensslin
120 So. Ela Road
Barrington, IL

---

Victorian and Vintage Clothing, Accessories, and Nostalgic Items
Member since 2008
Come in and browse! I'm cleaning out the closets....
Terry Bell
7865 State Road 44
Martinsville, IN

---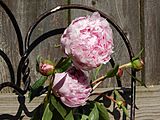 SPRING SALE NOW! When summer arrives, the sale is gone with the May flowers! Shop before it's gone!
Exclusive Ruby Lane Member since 2012
Limited Time Spring SALE!! Quality vintage and antique finds! Shop Nostalgique before it's Gone! Make an offer!
Monica DuttonHurt
451 Perry
Lawrence, KS

---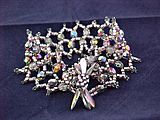 Beautiful Things
Exclusive Ruby Lane Member since 2009
We are back! Please don't be shy about making offers.......
Beverly Nurbin
7582 Pebble Shores Terrace
Lake Worth, FL

---

SALE: 10% - 50% OFF Hundreds of items in ALL categories.
Exclusive Ruby Lane Member since 2010
French Lithographs: Silk Kimono: Antique Postcards: Stunning Jewelry: 10% Discount for Repeat Customers (exc.SALE items)
Cazzie
Glorious Grose Wold.
Beautiful Blue Mountains, NSW, Australia

---