Vintage Fashion Shops Directory Alphabetical Listing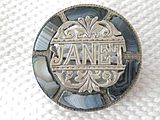 Specializing in Scottish and Victorian Jewelry, China, Silver and Baby Items.
Member since 2008
*SCOTTISH FESTIVAL, Costa Mesa Fairgrounds, CA May 23/24. Bldg 10. Layaway considered**
Janet Ramage
Supplied upon purchase
Southern California, CA

---

Oink! Oink! See what you've been missing!
Member since 2011
Fabulous Vintage Jewelry - and beautiful items for you and your home.
Rancho Foothill - Christine & Carrie
Address provided to buyers paying with a money order.
La Verne, CA

---

Bringing our customers the best vintage and antique items at an affordable price
Member since 2014
Josh UNRUH
480 Lancaster Ave
Frazer, PA

---

May my treasures bring you JOY!
Exclusive Ruby Lane Member since 2003
Judy Smith
Will provide to buyer
Lancaster, PA

---

Fine Art, Sculpture, Collectibles and Books with Famous Illustrators
Member since 2009
We are back with lots of interesting and unique items. Take a look and see!
Juliet Sullivan
495 Alt. 19 #161
Palm Harbor, FL

---