Vintage Fashion Shops Directory Alphabetical Listing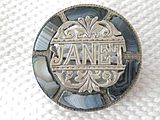 Specializing in Scottish and Victorian Jewelry, China, Silver and Baby Items.
Member since 2008
*CHECK MY SALE ITEMS. **Subscribe free to view new items as listed. Layaways considered ***
Janet Ramage
Supplied upon purchase
Southern California, CA

---

August clear out! If you like it, made an offer! I am open to all offers!
Exclusive Ruby Lane Member since 2009
Artisan Jewelry, Vintage Jewelry and Collectibles. Offers considered carefully
Jennie Littrell
Address will be supplied as needed
Supplied as needed, CT

---

Oink! Oink! See what you've been missing!
Member since 2011
Fabulous Vintage Jewelry - and beautiful items for you and your home.
Rancho Foothill - Christine & Carrie
Address provided to buyers paying with a money order.
La Verne, CA

---

Bringing our customers the best vintage and antique items at an affordable price
Member since 2014
Josh UNRUH
480 Lancaster Ave
Frazer, PA

---

May my treasures bring you JOY!
Exclusive Ruby Lane Member since 2003
**Huge Make An Offer Sale--- Check it Out**
Judy Smith
Will provide to buyer
Lancaster, PA

---