Fine Art Shops Directory Shop Locally
Fine Decorative Antiques
Exclusive Ruby Lane Member since 2005
Joan FitzGerald & Susan Simon
Post Office Box 46093, 2339 Ogilvie Road
Gloucester, ON, Canada

---

Unique And Unusual Antiques and Collectables Antique 19th century art, miniature paintings
Exclusive Ruby Lane Member since 2005
Heirloom Gallery
Canada
London, ON, Canada

---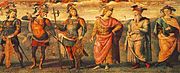 Fine European & Oriental Antiques, Militaria & Antiquities
Member since 2006
Fine European, Oriental & Islamic Antiques, Ancient Art, and Antique Arms & Armour from around the World.
George J
251 Laurier Avenue West, suite 900
Ottawa, ON, Canada

---

Beautiful Antique Boxes, Fine Art and Rare Collectibles. New and exciting treasures added weekly.
Member since 2013
Anna Bereg
PO Box 32111, 250 Harding Blvd. W
Richmond Hill, ON, Canada

---

A Collection of Superior Quality Authentic Antiques, Fine Art and Jewellery
Exclusive Ruby Lane Member since 2005
Authenticity ; Beautiful Workmanship, Many One of a Kind Treasures
Barbara
Provided at time of sale, Thank you
Toronto, ON, Canada

---

Treasures from around the world for you to choose from.
Exclusive Ruby Lane Member since 2009
Extravaganza Sale on most items
Maryse & Marc
For security reason, address will be provided at time of sale.
Montreal, QC, Canada

---

We sell antiques, collectibles, paintings and decorative art.
Member since 2014
Unique gallery known for European & Canadian fine art , antique furniture, glass and porcelain.
Galerie Du Louvre
9025 Claudel
Montreal, QC, Canada

---